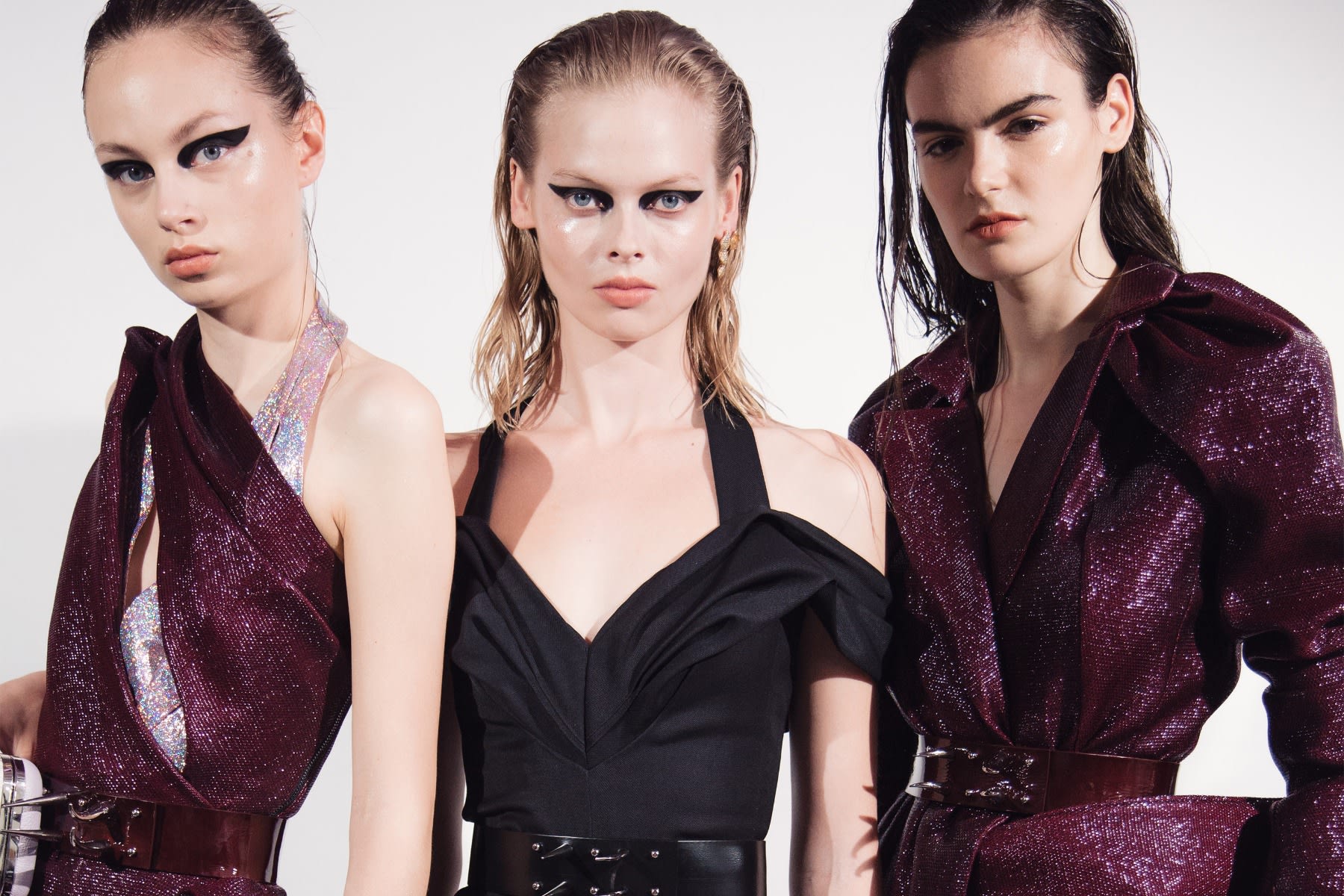 HISTORY
Toni Maticevski has built a brand, a vision of feminine desires and artful silhouettes that have defied trends and survived as one of the greatest unannounced drivers and inspirers of modern women's fashion and design for nearly two decades.
It, much like the designer, has stood humbly stirring and filling the world with a unique and unwavering approach to design and the craft of fashion. An indefinable talent that is at once recognised for his signature manipulation of cloth as sculpture. Dressing the female with the most alluring of silhouettes, Maticevski dreams of fashion as art to wear, as a companion to a life filled with beauty.
Maticevski has collaborated with dance institutions such as Phillip Adams Ballet Lab, designing costumes for two productions, Miracle (2009) and Aviary (2011) for which he won a Helpmann Award (shared with Milliner Richard Nylon.) Contributed to campaigns for the Australian Ballet (2009) and in 2013 he worked with the National Gallery of Victoria on its most ambitious exhibition 'Melbourne Now'.
In 2016 Maticevski had the first major retrospective of his work "Dark Wonderland" at the renowned Bendigo Art Gallery in Victoria. Alongside the exhibition came the launch of the book Maticevski: The Elegant Rebel, written by Mitchell Oakley-Smith. The book reveals the inspirations and themes behind Maticevski's work. 2016 also saw Maticevski's work included in the 200 Years Of Fashion exhibition at the National Gallery of Victoria.
MET WITH CRITICAL ACCLAIM, THE EDIT OF WORK FROM THE PAST 16 YEARS ALLOWED THE UNIQUE OUEVRE OF THE LABEL TO BE VIEWED ON A NEVER BEFORE SEEN SCALE.
DARK WONDERLAND, 2016
PART ARTIST, PART ROMANTIC, PART HISTORIAN AND PART FUTURIST, MATICEVSKI BALANCES THESE ELEMENTS TO EXUDE AN ELEGANCE THAT IS TOUGH AND REBELLIOUS. NEVER STEEPED IN NOSTALGIA BUT DRAWN OUT FROM IT.
IN 2012, MATICEVSKI SHOWED A CURATED COLLECTION OF WORK AT MERCEDES-BENZ FASHION WEEK SYDNEY TO INDUSTRY APPLAUSE, REINVIGORATING THE BRAND'S CORE VISION.
MATICEVSKI CONFOUNDS THE CONSERVATIVES AND ILLUMINATES THE DREAMERS. HE BUILDS AN ALLURING CONFIDENCE IN THE WEARER, ONE ONLY HAS TO ASK HER WHAT THE MAGIC IS. HIS IS A STORY OF SURVIVAL AND OF QUIET SUCCESS.
In 2002 Maticevski won the L'oreal Melbourne Fashion Festival "New Designer Award" and a few months later premiered his collection as part of Mercedes-Benz Fashion Week in Sydney. After successful showings until 2006, Maticevski was invited by New York Fashion Week to present his collections. Showcasing his innovations until 2010 in New York where he quickly became a favourite of fashion stylists and starlets alike. Maticevski has used his love of design to develop shoe collections/leather goods/children's lines and continued the growth of custom bridal and couture made-to-order services. This has set the platform for the re-vitalization and reincarnation of the brand's core vision in 2011.
In 2012, with a stronger brand offering Maticevski showcased at Mercedes Benz Fashion Week (MBFW) Australia, with much critical applause and lauded as an innovator and leader. In 2016 Maticevski was awarded The Australian Fashion Laureate Award, a lifetime achievement within the Australian fashion industry and its promotion and support globally In 2017 Maticevski showcased his collection to media and buyers during the Couture Spring Season in Paris.
Maticevski is currently stocked in over 35 countries worldwide and in over 100 stores, department stores, boutiques, and online platforms.
To learn more about the history of Maticevski, please contact our PR team at pr@tonimaticevski.com.